Offering Teletherapy Appointments for All Ages in Michigan
Telemental health services is a fancy way of saying we will meet with you by video or phone while you remain in the comfort of your own home.
We use safe, secure, and private technology that is HIPAA compliant to reach out to you in much the same way as we would in our offices. The benefits of telemental health are apparent in today's environment where access to mental health professionals is critical.
Coordinate an online counseling session with our Michigan based team today.
Virtual platforms allow an ease of access to these services in which you can schedule appointments (even same-day appointments) whenever you need us. By eliminating travel and waiting rooms, you save time while not sacrificing your own self-care. Additionally, you can meet with a mental health professional located anywhere in the state, so people who don't live near our offices have the same access to care as those in more populated areas. Mindfulness Training, Couples Counseling, Parenting Support, Help with Anxiety, and Treatment for Depression are all easily accessible through telemental health services. We continue to support evidence-based treatments for our patients no matter how they reach us!
Check out our Educational Webinars
Some benefits of Telemental health services:
Moms can meet with their therapist in a separate room eliminating the need for child care.
Children get super excited about being in a virtual room with their therapist and they are even more engaged, focused and attentive!
Teens love the technology and feel more comfortable knowing they can meet with their therapist privately and not run into their peers in a waiting room.
Families are gathering around their computer or joining a family session through each of their phones.
Couples are learning effective communication with the help of their therapist and building better relationships!
Parents are appreciating the advice and guidance through our parent coaching sessions without having to leave the home.
Business men and women shutting their doors for a 45 minute therapy session during their lunch hour.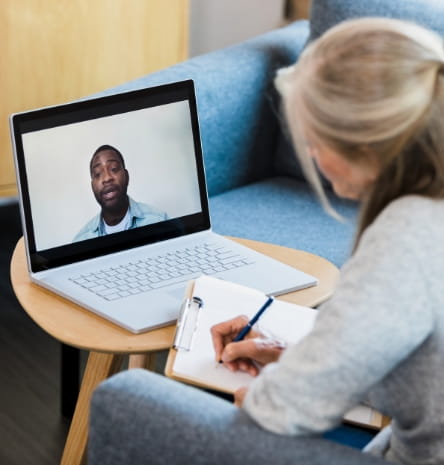 Our Fully Licensed Clinical Psychologists and clinicians at McCaskill Family Services are here and ready to meet with you anywhere in Michigan.
After you call or email to schedule an appointment, we will send you a link to your email. Open the email on your computer, iPad or cell phone, then click on the link and you will find yourself in a private video room with just you and your therapist. It's a lot like Facetime on your phone, only private and secure! It is a very simple process and we have been doing this for years, so we have had time to work out the glitches and our patient love it! We very much hope to see you soon in the comfort of your home or office. You are not alone.