Child Therapy Sessions in Brighton and Plymouth, MI.
When your child is born with a disability or is struggling at any age, it hurts worse as a parent than any struggles you have been through in your own life.
You want to protect your child at all costs and make their childhood as happy as possible. You may have turned to books, the internet or advice from your pediatrician, family or friends, but wonder if there is something more that you can do to help your child.
You may have even tried therapy, but either you or your child didn't feel a comfortable connection to the therapist, had no idea what was going on once you dropped your child off for the session, didn't get any advice on what to do as a parent to help your child and/or you were not seeing results.
At McCaskill Family Services, our pediatric psychologists have advanced specialties in working with children of all ages using primarily Cognitive-Behavioral Therapy. We are expertly trained in a variety of problems specific to children and have received advanced education in child development. Through specialized training working with children beyond that of a psychologist who works primarily with adults, we are experts in conditions that affect children and we are able help each child reach their fullest potential at any age.
Online Counseling Services Available For Patients Throughout Michigan
Meet with a licensed psychologist by phone or video
Teletherapy is safe and private & follows all HIPPA guidelines
We are out-of-network with insurance companies; however we are a recognized out-of-network provider with BCBS of Michigan. Patients are expected to pay at the time of service. Receipts are provided so patients can submit them to their insurance company for possible reimbursement.
Visit Our Teletherapy Page
We have a very child-friendly office stocked with toys and a colorful, comfortable environment for your child to feel welcomed and safe at any age.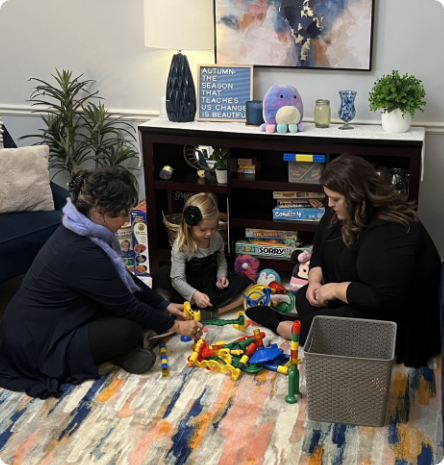 It does not feel like a "doctor's office", but rather like an extension of school or home so that children feel especially comfortable coming in to see us. In fact, most children eagerly anticipate their appointments and siblings often ask if they can come too. We are part of a team that includes you (and, if applicable, his/her teachers or other caretakers). You, as the parent, are involved at every step and will be simultaneously trained in any techniques we teach your child so that you can reinforce them outside of the treatment session. We also will often teach you parenting strategies and techniques to use at home to improve your child's behavioral, emotional and psychological functioning. Our empirically proven treatment techniques will never leave you wondering "what did my child do during their session".
If your child is struggling in school, we will first fully understand the source of their difficulties.
We work with teachers/school personnel to create positive behavioral plans to improve school functioning. We always have an eye toward the future and we will help you and your child through every stage of development. We specialize in working with children of all ages, from birth through young adult. With over 150 years of combined experience in working with children, we have experts who specialize in all childhood problems. Many of our doctors are affiliated with major universities and children's hospitals so as to keep up with the latest research and effective treatments specific to children.