Interested in Joining the McCaskill team?
Here at MFS we consider ourselves to be family. Not only do we spend our workdays together, but we often participate in community outreach events, celebrations and volunteer work together! Through each of our life's individual journeys, we aim to support each other. We know that a strong bond is the key to our professional, personal and even our client's success. We look forward to meeting you and hearing your story. Welcome!
Learn About Our Job Openings & Apply Today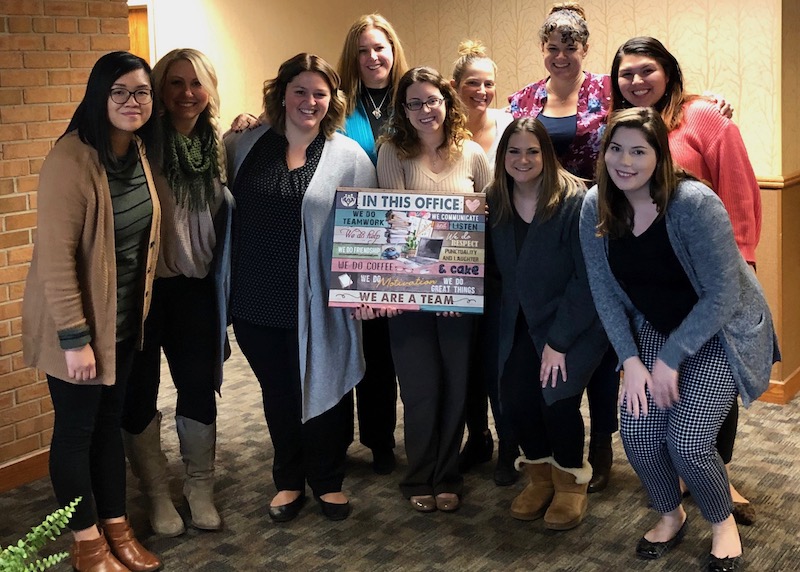 Check out our available positions below.
---
Join Our Clinical Team
So many reasons to join our MFS team!
Competitive salary and compensation. Paid time off
Paid liability insurance.
BCBS PPO Health Care Insurance options.
Training, CEU, and supervision/consultation opportunities in a collaborative group practice environment.
Opportunities for role advancement and financial growth.
ALL private pay/out of network practice, allowing more time to focus on direct high-quality clinical care with patients with minimal required paperwork.
Steady influx of referrals, with new clinicians being able to build caseloads quickly!
Family-based practice with a long history of stability and staff cohesiveness.
Clinical Psychologist/Therapist
IMMEDIATE OPENINGS for full and part-time positions for highly qualified clinical psychologists/therapists who have training and experience in providing evidence-based therapy to children, adolescents and families. Opportunities also available for clinicians experienced with Neuropsychological/ Educational Assessments who would like to include assessments in their practice. Doctoral and Master's level candidates considered (Michigan LLP or LP licensure required). Candidates available to conduct in-person and teletherapy services strongly preferred.
Applicants should submit the following materials to employment@mccaskillfamilyservices.com:
Copy of Curriculum Vitae
Cover letter
Postdoctoral Fellowship
Two-year postdoctoral fellowship in Clinical Psychology within a thriving private practice setting for candidates seeking advanced training in evidence-based therapy and neuropsychological/psychoeducational assessment with children, teens, adults and families. Applicants must have a doctoral degree in clinical psychology from an APA accredited program by August, 2022; fellowship start date is September 1, 2022. Stipend ranges from $65,000-80,000 with pay structure including a base salary with opportunity for bonus pay based on client caseload. Applicants should submit the following materials to employment@mccaskillfamilyservices.com:
Copy of Curriculum Vitae
A detailed cover letter describing:

Background in clinical psychology
Training goals for post-doc fellowship
Clinical and research training experiences
Career objectives
Strengths and assets.

Three Letters of Recommendation
Letter from graduate program's director of clinical training (to attest to readiness for graduation; may be included in content of recommendation letter as part of requirement above)
Copy of Graduate School Transcript
Join Our Front Office Team
Secretary: HIRING NOW FOR OUR BRIGHTON OFFICE
Seeking personable, positive and confident individual, with experience in office settings (preferably medically-based), to help run our clinical psychology practice. We are currently hiring for our location in Brighton, MI. Our practice is rapidly expanding and we offer a stable, friendly, collaborative work environment with exceptional growth potential.
Full-time positions (36 – 40 hours) available
Qualifications:
Dependable and motivated
Present with a polished, professional demeanor and very positive attitude
Strong organizational skills and detail oriented
Ability to multi-task, prioritize tasks and handle pressure situations while maintaining composure
Computer skills and ability to work with Word, internet, and electronic scheduling
Ability to learn other software programs quickly
Strong verbal communication skills both in person and in writing
Ability to maintain confidentiality according to HIPPA standards with sound decision making skills
Able to take direction
Ability to work well with people, preferably experience in working in environments with children and families
Must maintain a positive, confident attitude with ability to set limits with patients and staff based on company policy
Stable work history and desire for long-term employment (given the sensitive, confidential nature of our patient population.)
Responsibilities include, but not limited to:
Oversee and maintain patient appointment scheduling for multiple doctors
Answer intake calls and schedule patient with the best psychologist on our team to meet their needs
Checking patients in and out
Filing and electronic record management
Answer telephone calls and email
Organize and mainstream current operations to increase efficiency
If interested, please email resume and a letter stating why you believe you would be a great addition to our practice to employment@mccaskillfamilyservices.com
Visit us on Facebook and Instagram for more team photos!