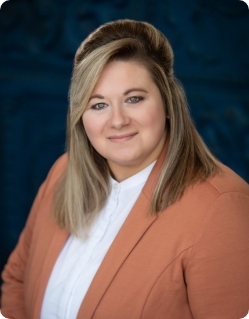 Jessica Peatee, Ph.D., LLP
Dr. Jess (she/her/hers or they/them) is a postdoctoral fellow who serves individuals across the lifespan who are navigating difficulties in their romantic relationships, identities, or other stressful life experiences.
Jessica is most passionate about assisting those who may be struggling with experiences of trauma, relationship violence, gender and sexual identity exploration, and romantic relationship concerns.
Here is a bit of background on Dr. Jess:
Regardless of presenting concern or treatment approach, Dr. Peatee strongly believes that treatment is most effective when grounded in a supportive and safe relationship. She strives to create an environment where anyone can receive care, while feeling respected and empowered, regardless of their background, beliefs, identities, and experiences.
Generally, she draws from a variety of treatments supported by research and tailors her approach based on each client or couples' differing experiences and needs. Dr. Peatee has received specialized training in trauma-informed treatments such as prolonged exposure (PE), cognitive processing therapy (CPT), trauma-focused cognitive behavioral therapy (TF-CBT), and Exposure, Relaxation, & Rescripting Therapy (ERRT) for trauma-related nightmares. She also has experience conducting comprehensive psychological assessments which focus on providing diagnostic information and helpful recommendations for children and adults who have experienced trauma and other presenting concerns. Dr. Jess has also received training in a variety of couples therapy approaches, including behavioral couples therapy (BCT) and integrative behavioral couples therapy (IBCT). She has experience delivering interventions that target both experiences of trauma and relationship issues, such as the VA's Strength at Home program (an intervention for reducing the use of intimate partner violence in relationships) and cognitive-behavioral conjoint therapy for PTSD.
Dr. Jess received her bachelor's degree in psychology from Marietta College and earned her master's and doctoral degrees in clinical psychology from the University of Montana. During her training at the University of Montana, she worked as an advocate and therapist for survivors of sexual assault and intimate partner violence and conducted research focused on psychological abuse occurring in romantic relationships. Jessica completed her pre-doctoral internship at the VA Ann Arbor Healthcare System (VAAAHS), where she gained specialized training in evidence-based treatment for PTSD, sleep concerns, and couples therapy. Dr. Peatee remains committed to being an advocate for survivors of trauma and abuse and hopes to contribute to the reduction of intimate partner violence by providing healthy relationship education and treatment to adolescents, adults, and couples. Dr. Jess is directly supervised by Dr. Nicole Wozniak.