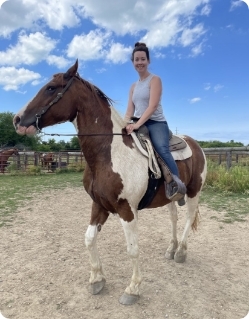 Natalie Nugent, Ph.D., LP
Dr. Natalie Nugent is a fully licensed clinical psychologist who specializes in the assessment and treatment of posttraumatic stress disorder and other trauma-related conditions.
Dr. Nugent earned her PhD from Eastern Michigan University where she completed specialized pre-doctoral training in trauma-informed care.
Here is a bit of background on Dr. Nugent:
She went on to complete a clinical internship at the VA Ann Arbor Healthcare System where she gained considerable experience in providing evidence-based treatment to individuals with posttraumatic stress disorder. She has national certifications in both Prolonged Exposure Therapy and Trauma-Focused Cognitive Behavioral Therapy, as well as extensive training in Cognitive Processing Therapy. In addition to her trauma-related focus, Dr. Nugent has a passion for implementing mindfulness-based interventions to assist in reducing anxiety and depression, while also enhancing overall well-being and resilience.
Dr. Nugent's research interests include understanding the effects of trauma-exposure, including Military Sexual Trauma (MST), on experiential avoidance, engagement in excessive behaviors, and health-related outcomes and she has presented independent research on these topics at both national and international conferences.
In addition to her work for McCaskill Family Services, Dr. Nugent currently serves as the Chief Operations Officer for Huron Behavioral Health, a community mental health center in Huron County, MI. In addition to this role, Dr. Nugent maintains a consulting practice, Lake Huron Wellness Consulting, through which she regularly conducts community and organizational trainings on trauma-informed care, the effects of childhood trauma exposure on long-term functioning, and compassion fatigue and burnout in mental health/human service professionals. Dr. Nugent is passionate about teaching and training; therefore, she also maintains a position as a part-time lecturer at Eastern Michigan University, most recently teaching Clinical Organizational Management to doctoral students.
Personally, Dr. Nugent is a wife, mother, and lifelong horsewoman. She credits her first horse, Romeo, with instilling in her confidence, creative problem-solving skills, and the courage to pursue her passions. She is thrilled to be able to offer Equine Assisted Therapy at McCaskill Family Services so that others may experience the healing effects of horsemanship and the equine bond.